26er Carbon MTB Wheelset 24mm Depth Cross Country
26er Carbon MTB Wheelset 24mm Depth Cross Country
yuan an

xiamen

7-15days

1000pair
.Hookless Rim Bead. Hookless rim bead more straight and smooth side walls, tire can touch rim walls fully. More durable and impact resistance compared to the traditional hooks rim
.Tubeless Ready. Beadlock design makes the rims better tubeless tire setup and better sealing, results a more lightweight carbon wheels
.Angled spoke holes allows the nipple to pull straight in line with the spoke for reduced stress, this results in fewer broken spokes and nipples
Rim:
| | | | | | |
| --- | --- | --- | --- | --- | --- |
| Size | 26er | Outer Width | 24mm | Weight Limit | 100kg |
| Use | Cross Country | Depth | 24mm | Weight | 270+/-15g |
| Type | Hookless | ERD | 527mm | Spoke Tension | ≤145kgf recommended |
| Tubeless | Ready | Spoke Hole Angle | ±6° | Tyre Pressure | 20-40psi recommended |
| Inner Width | 19.6mm | Offset | 0mm (symmetric) | Tire | 1.9" ~ 2.1" recommended |

Hub:
.DT SWISS 240,sraight pull/J-bend
.Axle:F-15*100mm.R-12*142mm (F-15mm*110mm boost/QR*100mm.R-12*148mm boost/QR*135mm)
.Brake interface: Disc 6 bolts / Disc center lock
.Free hub system: Ratchet System 18T (optional 36T / 54T).
Cassette body:Shimano MTB 10/11S (optional 12SP) or Sram XD;
.hole:front 28./32 rear 28/32
.color:black
Spoke:
.Sapim cx-ray/pillar 1423/pillar wing 20
.color:black
Nipple:
.Secure Lock
.color:black
Lacing:
.front wheel-3 cross
.rear wheel-drive side 3 cross.non-drive side 3 cross
.weight:
freebody
Hole
Axle system
Hub weight / set
Spokes + nipples weight
total weight
Shimano 11SP
28/28
F-15*100mm / R-12*142mm
388g
255g
1190g±30g
Sram XD
28/28
F-15*100mm / R-12*142mm
375g
255g
1170g±30g
Shimano 11SP
32/32
F-15*100mm / R-12*142mm
405g
291g
1240±30g
Sram XD
32/32
F-15*100mm / R-12*142mm
395g
291g
1230g±30g
*Please note that Pillar 1423 spokes weigh 2-2.3g more per sapim spokes, depending on the length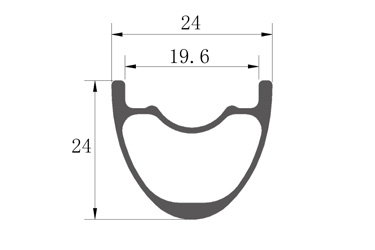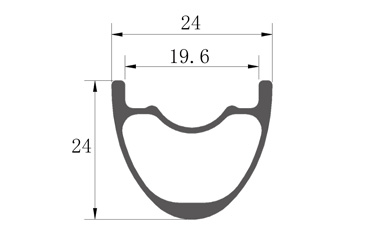 Technique introduction
Manufacturing process:
Our air bladders are made from a special material which produces smoother walls, result in a lighter rim, and are completely removed without harsh chemicals. They are removed through the valve hole with a unique process so that the rim does not have to be patched like traditional manufacturers use. This significantly improves the strength of the rims.
Asymmetrical:
The profile allows for equalized spoke tension which creates a stronger wheel that stays true.
Material: Constructed with premium Toray T700 carbon fiber. The best strength to weight ratio with no expense spared.
Precise layup:
Each rim carries its own layup schedule documents which are followed meticulously by the layup workers. Our Engineering team creates a unique fiber orientation which amplifies the desired riding characteristics for a given rim.
Angled Holes:
Angled spoke holes allows the nipple to pull straight in line with the spoke for reduced stress. This results in fewer broken spokes and nipples. 

Bead lock:
The small ridges on either side of the drop channel help secure tubeless tires in place. The bead lock makes it easier to seal up tubeless tires with a floor pump, and they are incredibly hard to burp.
Hookless:
Carbon fiber flows continuously over the bead area to provide the best impact resistance and a significant strength increase compared to a clincher rim.
Tubeless:
While the rims are optimized for a tubeless setup with the addition of tubeless tape, they also work with tubes.